Why Some Reach Life's Summits While Others Fail
David Snow never intended to become a mountain climber. But when a friend invited him to climb Mt. Rainier, Snow decided to try this new experience. For the friend, also a novice climber
,
the hardship and discomfort of the climb was an experience he never wanted to repeat, and never did. For Snow, that first climb was life-changing. Eventually, David Snow would climb the highest summits of all seven continents, culminating in reaching the top of the world in May 2018. Snow would also be inspired to launch several successful mountain climbing and adventure companies in Africa and the U.S.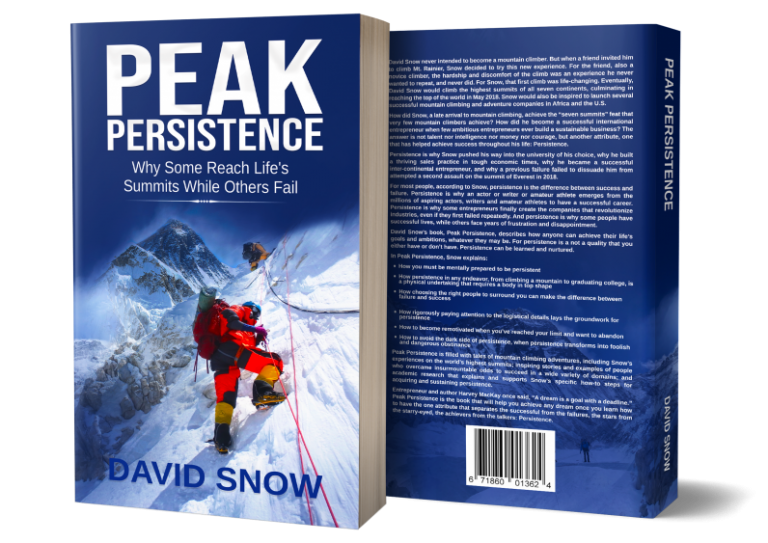 How did Snow, a late arrival to mountain climbing, achieve the "seven summits" feat that very few mountain climbers achieve? How did he become a successful international entrepreneur when few ambitious entrepreneurs ever build a sustainable business? The answer is not talent nor intelligence nor money nor courage, but another attribute, one that has helped achieve success throughout his life: Persistence.
Persistence is why Snow pushed his way into the university of his choice, why he built a thriving sales practice in tough economic times, why he became a successful inter-continental entrepreneur, and why a previous failure failed to dissuade him from attempted a second assault on the summit of Everest in 2018.
For most people, according to Snow, persistence is the difference between success and failure. Persistence is why an actor or writer or amateur athlete emerges from the millions of aspiring actors, writers and amateur athletes to have a successful career. Persistence is why some entrepreneurs finally create the companies that revolutionize industries, even if they first failed repeatedly. And persistence is why some people have successful lives, while others face years of frustration and disappointment.
David Snow's book, Peak Persistence, describes how anyone can achieve their life's goals and ambitions, whatever they may be. For persistence is a not a quality that you either have or don't have. Persistence can be learned and nurtured.
In Peak Persistence, Snow explains:
 How you must be mentally prepared to be persistent
 How persistence in any endeavor, from climbing a mountain to graduating college, is a physical undertaking that requires a body in top shape
 How choosing the right people to surround you can make the difference between failure and success
 How rigorously paying attention to the logistical details lays the groundwork for persistence
 How to become remotivated when you've reached your limit and want to abandon
 How to avoid the dark side of persistence, when persistence transforms into foolish and dangerous obstinance
Peak Persistence is filled with tales of mountain climbing adventures, including Snow's experiences on the world's highest summits; inspiring stories and examples of people who overcame insurmountable odds to succeed in a wide variety of domains; and academic research that explains and supports Snow's specific how-to steps for acquiring and sustaining persistence.
Entrepreneur and author Harvey MacKay once said, "A dream is a goal with a deadline." Peak Persistence is the book that will help you achieve any dream once you learn how to have the one attribute that separates the successful from the failures, the stars from the starry-eyed, the achievers from the talkers: Persistence.
Order your advanced copy today!
© Copyright 2019 DavidgSnow, All Right Reserved